Technical Energy Systems for Buildings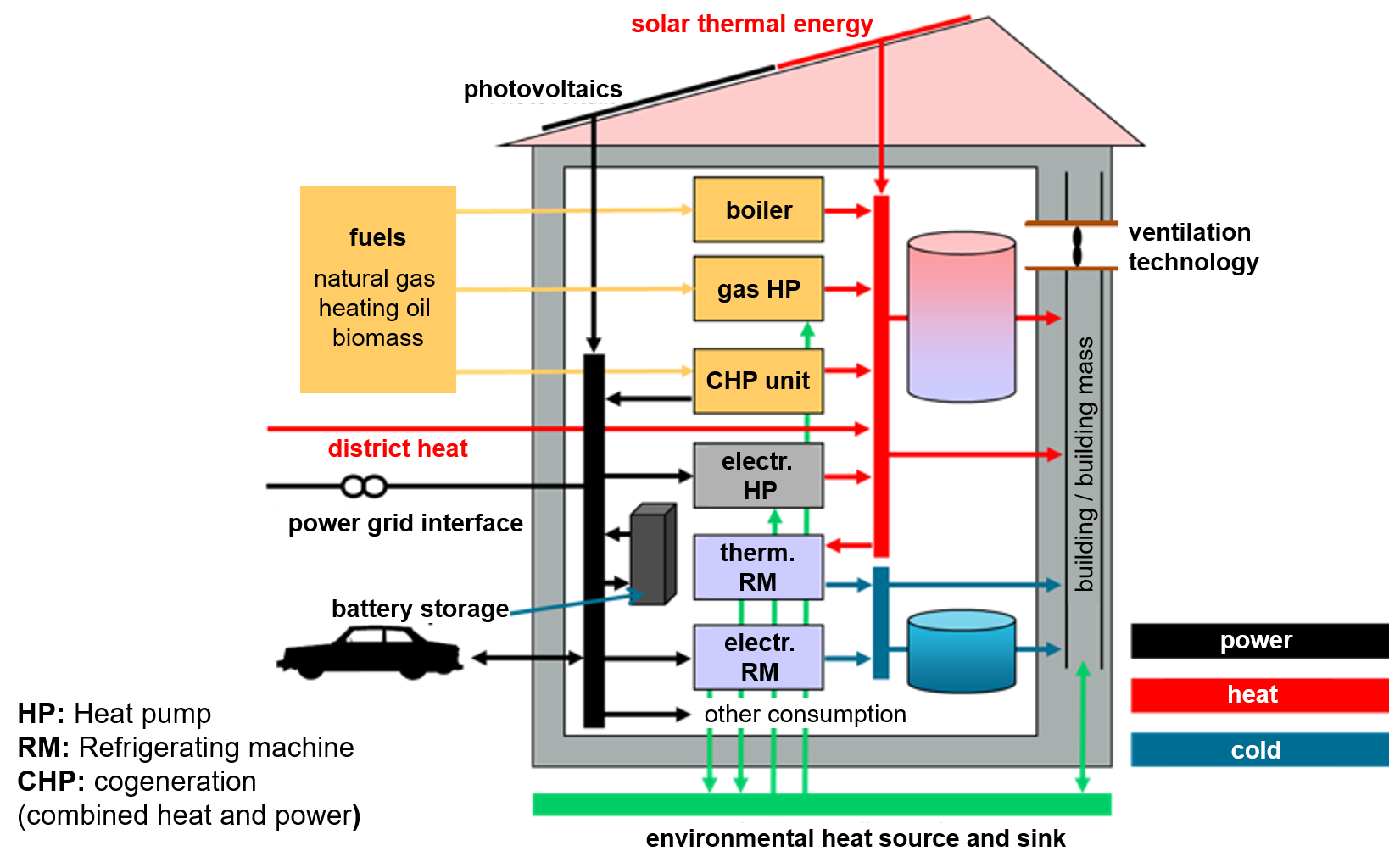 Components and systems for energy supply of buildings © INATECH
Challenges of Technical Energy Systems of Buildings:
Buildings account for about 40 % of final energy demand in industrialized countries.
Operation of buildings contributes by about 30 % to CO2 emissions.
People spend most of their time in buildings; thus indoor comfort has a major impact on our health and well-being.
European Union and German government aim at achieving an almost "climate neutral" building sector in 2050.
In the future, new buildings have to achieve an almost zero energy standard in the EU (public buildings from 2019 on; non-public buildings from 2021).
Tasks for Sustainable Systems Engineers:
Reduce the energy footprint of buildings in different climatic zones through efficient energy conversion chains and "Low-Ex" systems
Design sustainable energy supply systems for buildings including the use of renewable energy sources
Apply the concept of sector coupling on the building level.
Integrate future requirements like indoor comfort in building design
Drive holistic approach regarding sustainability of buildings
Related scientific projects of INATECH:
LowEx Building Stock Analysis: LowEx-Concepts for the Heat Supply of Existing Multi-Family Houses

Webpage: www.lowex-bestand.de
Affiliated partners: Fraunhofer Institute for Solar Energy Systems ISE, Karlsruhe Institute of Technology KIT
Technology partners: Bosch, Stiebel-Eltron, Viessmann, Beck+Heun, Kermi, Westaflex
EnEff2050Begleit: Competition and project support in the framework of the funding initiative "Innovative projects aiming at an almost climate-neutral building stock at 2050"
Related lectures (MA-SSE):
Energy in Buildings: energy demand and building physics (Prof. Henning)
Energy in Buildings: components and systems for energy supply (Prof. Henning)
Solar Energy
Energy Storage