EnEff2050Begleit
Competition and project support in the frame of the funding initiative "EnEff.Gebäude.2050 – Innovative projects for achieving nearly climate-neutral building stock by 2050"

Project management: Dr. Stefan Hess
Funding period: 01.07.2017 - 30.06.2020
Funding code: 03EGB0006B
Funding body: Federal Ministry for Economic Affairs and Energy (BMWi)
Promoter: Forschungszentrum Jülich GmbH (PTJ)
The project EnEff2050Begleit accompanies the funding initiative EnEff.Gebäude.2050. The project is carried out in close cooperation with the Fraunhofer Institute for Solar Energy Systems ISE and the University of Wuppertal (BUW).
One special focus of our work is the coordination of the research college EnEff.Gebäude.2050. Within this framework, five young scientists from different universities and research facilities in Germany are promoted between 01.01.2018 and 31.12.2019. The young scientists and their academic advisors meet on a regular basis to discuss their topics and the work of the funding initiative.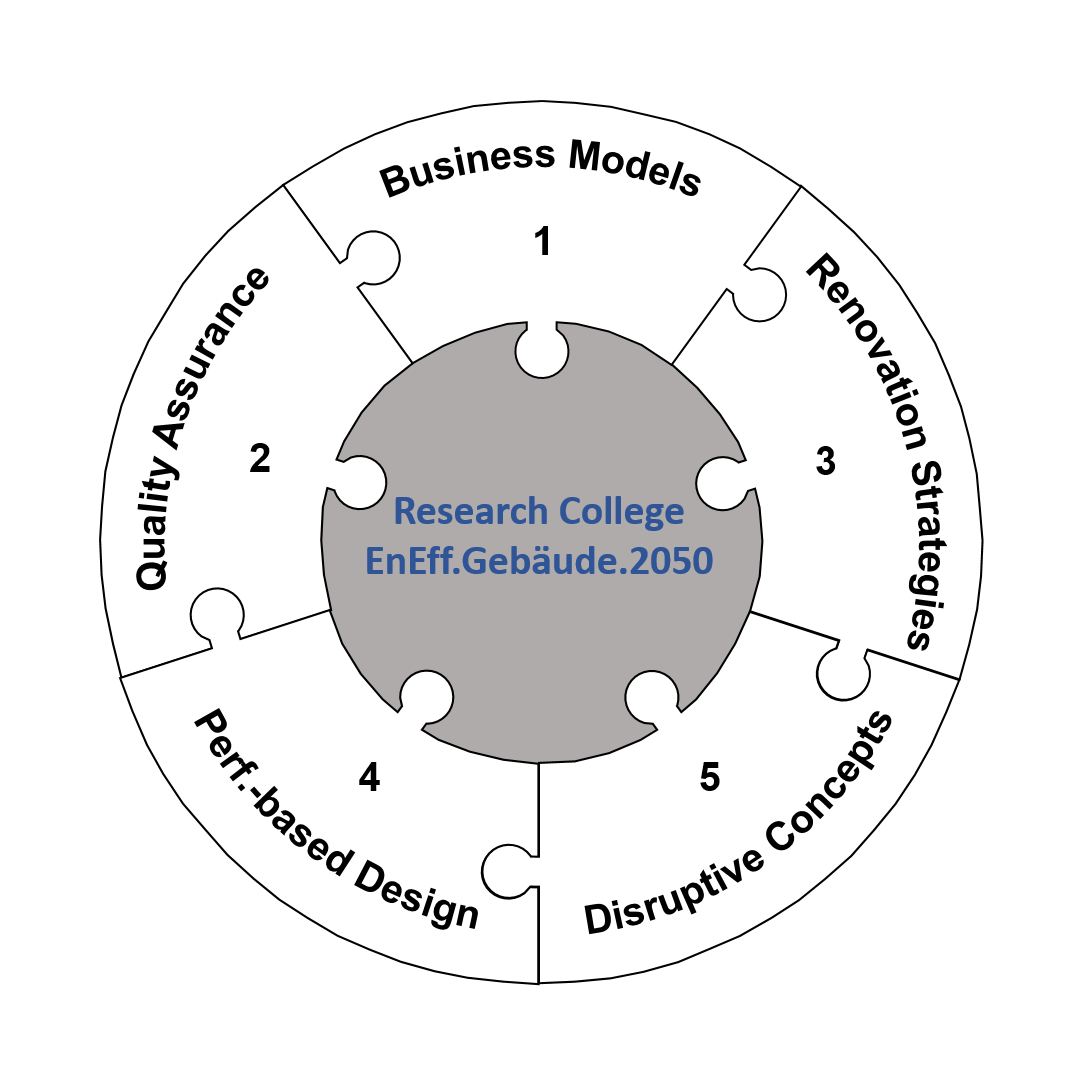 Scientific focuses of the research college © INATECH
Main objective of the academic promotion of young scientists is to strengthen the scientific demands of the funding initiative EnEff.Gebäude.2050 and to extend its range within the scientific community. Furthermore, the networking of research facilities, young scientists and professionals within the funding initiative Energiewende Bauen are promoted as well as the broad knowledge transfer into the building praxis.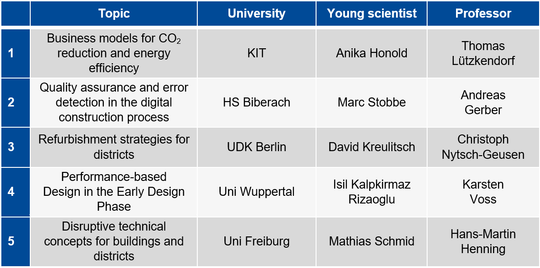 Persons and institutions of the research college with scientific focus © INATECH
Our work within the research college and the accompanying research also serves the purpose to identify thematic gaps considering the goal of a nearly climate-neutral building stock by 2050. On this basis, appropriate recommendations with regard to the further development of the funding initiative will be made.