What is SSE about?
This websites gives information on the master's Program SSE. Information on the German bachelor's program is available on our German websites.
The Master's Program SSE
Science and engineering are basic tools to achieve sustainable development, also in domains like ecology, economics and society.
The international Master's program Sustainable Systems Engineering (SSE) provides in-depth engineering skills in sustainable materials, energy systems, and resilience engineering. Complementing interdisciplinary knowledge in natural resources and climate change, as well as technology and society is also taught during the two-year-program. The flyer about the Master Program can be found here.
SSE students will have the opportunity to:
be involved in cutting-edge research with internationally renowned professors
benefit from state-of-the-art equipment on a modern campus and pioneering laboratories at partner institutes
benefit from the European campus
live in one of Germany's most appealing and green cities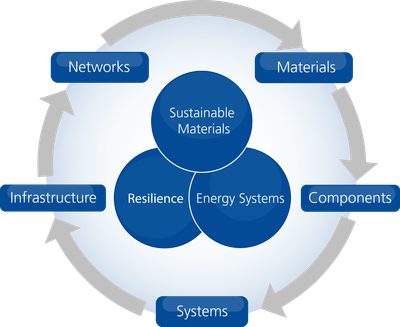 The Curriculum
SSE is an interdisciplinary program that builds on fundamental knowledge in electrical and mechanical engineering as well as natural and materials sciences. In the first semester six compulsory modules will get everyone on the same technical level. From the second semester on students start concentrating on their favourite research field and select a number of interdisciplinary modules to enhance their holistic societal and scientific understanding.


Find out more about the master's program SSE and see the recommended study plan. 
The content of the modules/courses is described in detail in the module handbook.
For more information see the Examination Regulations (the English version is not binding and for convenience only) for the program, they set the legal framework for the studies.