Studies
The Department of Sustainable Systems Engineering offers the degree program Master of Science in Sustainable Systems Engineering (SSE).
Find out more about the Master Program SSE here.
Find out about the admission requirements and how to apply here.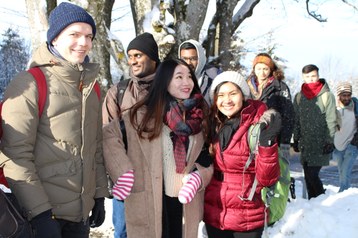 SSE Students of the first batch (winter term 2016/17) during a workshop on the mountain "Schauinsland" in February 2017: f.l.t.r.:
Dmitry, Balaji (hinten), Fan, Puneeth (hinten), Yupak, Karima, Sebastián.
Copyright: Department of SSE