Studies
The Department of Sustainable Systems Engineering currently offers the degree programme Master of Science in Sustainable Systems Engineering (SSE) (profile).
A Bachelor of Science (in German language) is planned for winter term 2018/2019.
Find out more about the Master Programme SSE here.
Find out about the admission requirements and how to apply here.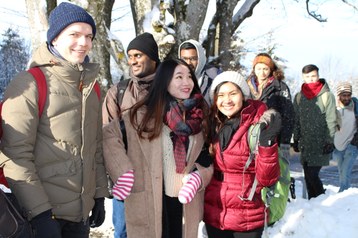 SSE Students of the first batch (winter term 2016/17) during a workshop on the mountain "Schauinsland" in February 2017: f.l.t.r.:
Dmitry, Balaji (hinten), Fan, Puneeth (hinten), Yupak, Karima, Sebastián.
Copyright: Department of SSE